Honest, Objective & Thorough
We provide honest, objective, and thorough inspection reports. From the first contact with us through the inspection delivery and explanation of your report, you will experience the ultimate in professionalism.
We service Carroll, Belknap and Strafford County, and all of New Hampshire.  In Maine,  available in York, Cumberland and Oxford County.
We pride ourselves in being honest, objective & thorough. We are also available on weekends.  Please contact us for a quote.
Our Home Inspection Services
All aspects of the property is inspected including all structural, electrical, air conditioning system and plumbing. We will notify the client of any item that is noted. We provide quality color photos with every inspection. You will understand every item by the time we are finished.  Please see our Home Inspection Services page for complete list of what's included in your home inspection.
Qualifications
We are qualified in all aspects of home inspections and employ a vast network of experts to consult in the event of "unique" experiences, situations or problem area's.  Each report generated is reviewed for accuracy and clarity.  We adhere strictly to The InterNachi Standards of Practice & Code of Ethics for Home Inspectors.
Complete Protection
The Complete Protection ( CP™ ) 90-Day Guarantee provides you with a warranty on the major mechanical systems in the home. Click here for warranty details.
*Warranty provided by Complete Appliance Protection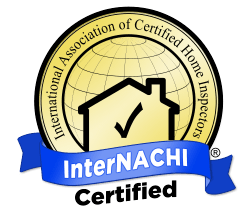 NACHI Certified Professional Inspector (NACHI)
We are a member in good standing of  The International Association of Certified Home Inspectors.
InterNACHI inspectors are certified and trained by the International Association of Certified Home Inspectors, the world's largest nonprofit association of residential and commercial property inspectors. InterNACHI provides its members with accredited training and education, free benefits, expert advice, and peer support—all to help them serve their homeowner-clients by providing them with the highest-quality inspections for their largest investments.
New Hampshire Inspectors License # 360